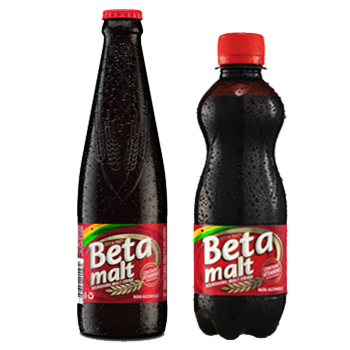 BETA MALT
In 2015, ABL debuted Beta Malt, a nourishing true malt with fortifying vitamins, minerals, and nutrients for a good boost, which makes it a perfect complement for on-the-go occasions. In 2017, ABL introduced Beta Malt in Returnable Glass Bottles (RGBs).
Beverage Style
Non-alcoholic malt drink
Suggested Glassware
Take it on the go!
Tasting Notes
Full body, with true malt characteristics combined with slight bitterness of hop
Ingredient Highlights
Barley malt, Hops, and Water
Nutritional Benefits
An energy booster which contains vitamin A, C and B complex
Available in:
330ml Polyethylene terephthalate (PET) bottle
330ml Returnable Glass Bottles (RGBs)
*PET bottles and RGBs are recyclable. We are vigilant in reducing our waste to landfill.
Like Mummy , Like Me
Kids are very observant, and they tend to copy everything their parents do. Beta Malt Like Mummy like me takes a fun approach to this daily life scenarios. Mothers (and fathers) are conscious of building a functional happy and healthy family while passing on good values to their children.