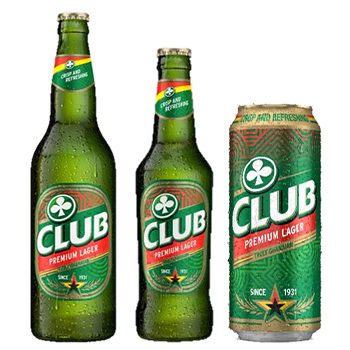 Drink CLUB Beer with moderation.
CLUB Beer
"Charlie" (friend)
First brewed in 1931, CLUB has become a truly national icon through the consistent use of adinkra symbols, national flag, timeless tagline, "Beer deԑ ԑnoaa ne CLUB" and adoption of "Charlie" which cements its continuing presence throughout different occasions and generations, making it a brand that brings friends together and is undoubtedly Ghana's quintessential beer. CLUB has been brewed with the same dedication to quality since 1931 and has been Ghana's number one selling beer for most of that period.
Beer Style:
Classic Lager
Suggested Glassware
Willbecher
Drinking Occasions
Best enjoyed with "Charlies"
Tasting Notes
Crisp and refreshing taste with a higher characteristic aromatic hop flavour
Club Nti
Club is Ghana's most loved beer brand, providing high quality refreshment for Ghanaian friends since 1931.
There's nothing like the moment your lips connect with the Quality taste of Club Premium Lager. It's the quality taste that's worth every hurdle, every chore, every long work day. The unmistakable enjoyment of a Club Premium Lager.
CLUB nti "For the love of Club" showcases the lengths consumers will go to ensure they maximize their enjoyment of Club premium lager using hyperbole.
Ghanaian consumers go to lengths including drinking Club with a straw or waiting for the foam head to completely settle before drinking to ensure no drop is wasted.